The EMS Academy Dates
National Registry of Emergency Medical Technicians Courses – The Nation's Certification. Our students graduate with more competitive resume than other Schools. Students can go on to work in other States such as New Jersey or California and can work on Federal Installations around the world.
Every January and July Begins a new Course
Download/View EMT Course Brochure
Cost Breakdown
Total Cost EMT Program: $1,499.10 (see cost chart) Deposit of 300.00 is required on or before day one of classes. This goes towards your total cost due.
New* Accelerated Course Option $2,500.00 (pilot 4 week program)
In house financing available.
Download EMT Course Fee Breakdown
---
Once you complete the EMT program, you will be eligible to test for national registry certification as well as obtain state certification. Once National Registry Certification is obtained, you can then file for reciprocity for your state's licensure. Contact your state department of health or EMS for more information on your state's requirements.
Class Times: Tuesday and Thursday 7pm to 10pm via Zoom, scheduled in Person skills session, and in person ambulance ride time with one of our ambulance rotation providers.
EMS Scholarship
Applicants should register for there course option and express a need for financial aid in there appilcation for Scholarship consideration. One Recipient is picked per course semester. Check out the ARES Relief fund.

Inquiry Form
Must be 17 years of age. A representive will contact you by email or phone about your registration please be ready to apply. Inhouse payment plans are available. Deposit of $300.00 is required please be prepared to pay this ammount when your contacted for course registrartion. We are preparing to roll out classes in NY region so please express your interest so we can place you on a wait list.
Application questions email info@emstrainingny.com. Course Application is your first step to applying for the program. There is no registration fee. You are welcome to apply so we know your interest.
Phone Directory
You can also text your questions to 347-280-3973
Disclaimer: This is NOT a New York State Program and ARES Does Not Offer New York State EMT Refreshers; however EMTs may take our program for CME credits toward recertificaiton for NREMT Basic.
*Accelerated Course option is new, an extensive interview process is required, if you select this option your start date will vary.
Graduates have an oppourtunity to Intervew and do Clinical Rotations on the Following Ambulance Companies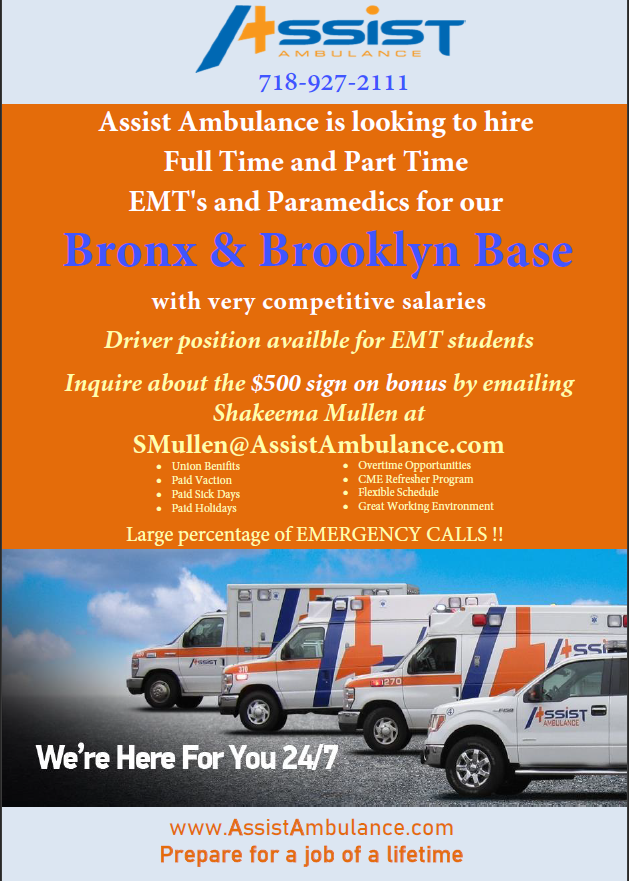 NREMT Program made possible though partnership with ARES Med Soultions, LA