Accredited American Heart Association Training Site
Same Day Certification, Ecard Printing and Laminaton Services available.
Use the register button above to register, use the coupon code listed or your companies code. Please call for group and weekend scheduling availability.
All major credit cards accepted!!
Current AHA Promotions, New Students and employees of local hospital systems get registration discounts.
Refund and Rescheduling Policy
Refund requests for classroom-based courses must be made 2 Days (48 hours) before your original course start time.
All refunds will be subject to a fee of 4% to cover the cost charged by our credit card merchant processing company.
You are limited to 1 free reschedule requests per registration.
Reschedule requests must be made before your course start time.
No refunds will be given once a class has been rescheduled.
All product sales are final and no refunds will be issued upon completion of sale.
Be on time to attend – Tardiness of 15 minutes or less considered. Please Call if you are running late to class
In-Person Students are subject to be observed by other online Students Via Zoom.
Students will not be photographed or recorded without their expressed consent.
Instructors will contact students not in attendance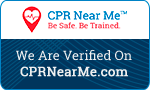 https://cprnearme.com/badge-script.js?listing_id=101547